Need to create an e‑learning module in no time? Tha­leia is the ideal tool for you! Thanks to its pre-popu­la­ted Excel file, all you have to do is enter your data in Excel and Tha­leia will create an e‑learning module auto­ma­ti­cal­ly! We will explain in detail how to create an e‑learning module in 15 minutes.
Step 1: Create an account
To create your account, click here. Enter your email address and you will receive your pass­word by email. With Tha­leia, you have the chance to test the plat­form for 15 days for free before making your choice.
Once you have crea­ted your account, you will be taken to the home page which offers you 3 choices :
Pro­duce: create and manage your trai­ning courses, in a few clicks, accor­ding to your needs
Dis­tri­bute: publish and make your trai­ning courses acces­sible in a dedi­ca­ted space
Ana­lyze: fol­low the consul­ta­tion and mea­sure the impact of your training
Click on the first choice: "pro­duce".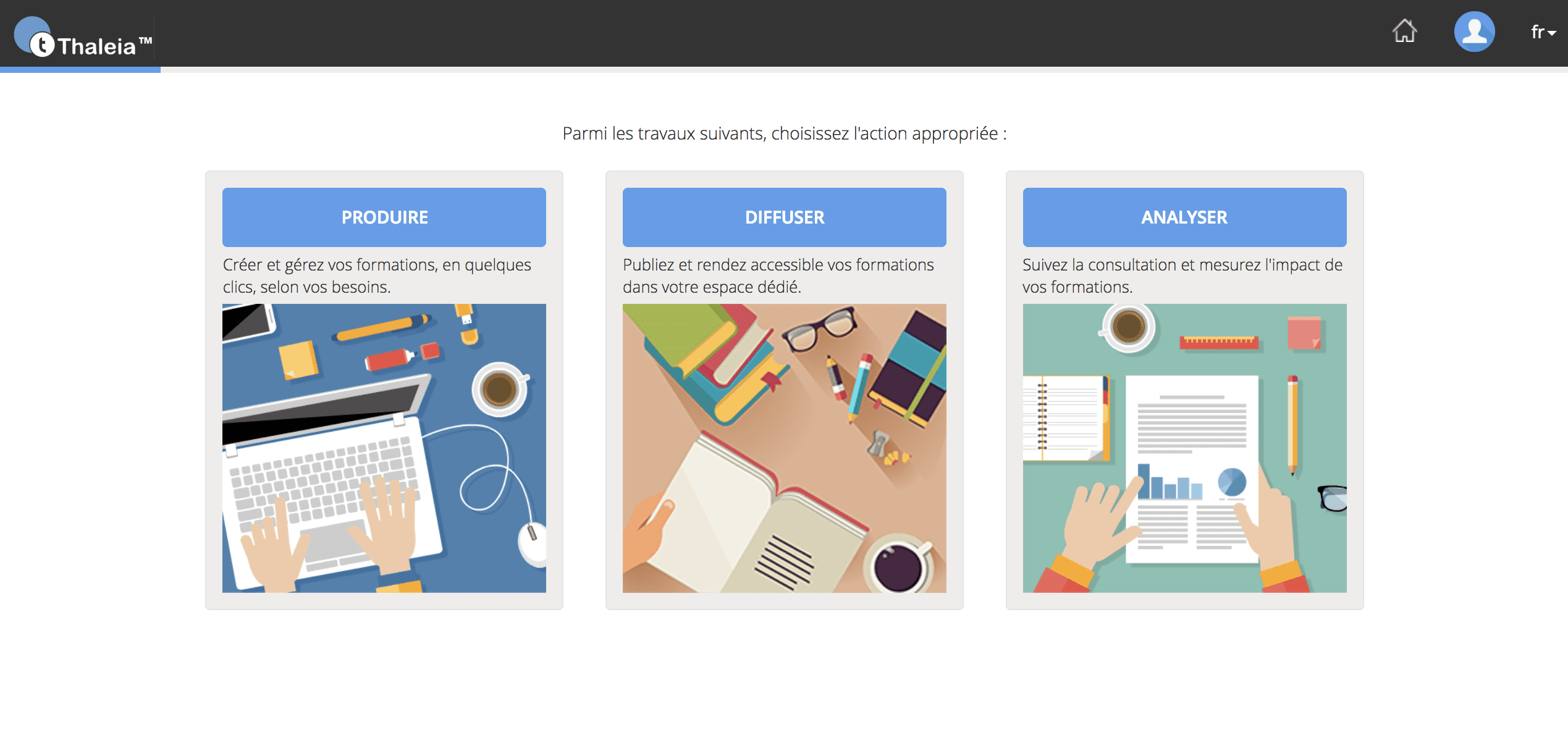 Then click on "pre­sen­ta­tion screens".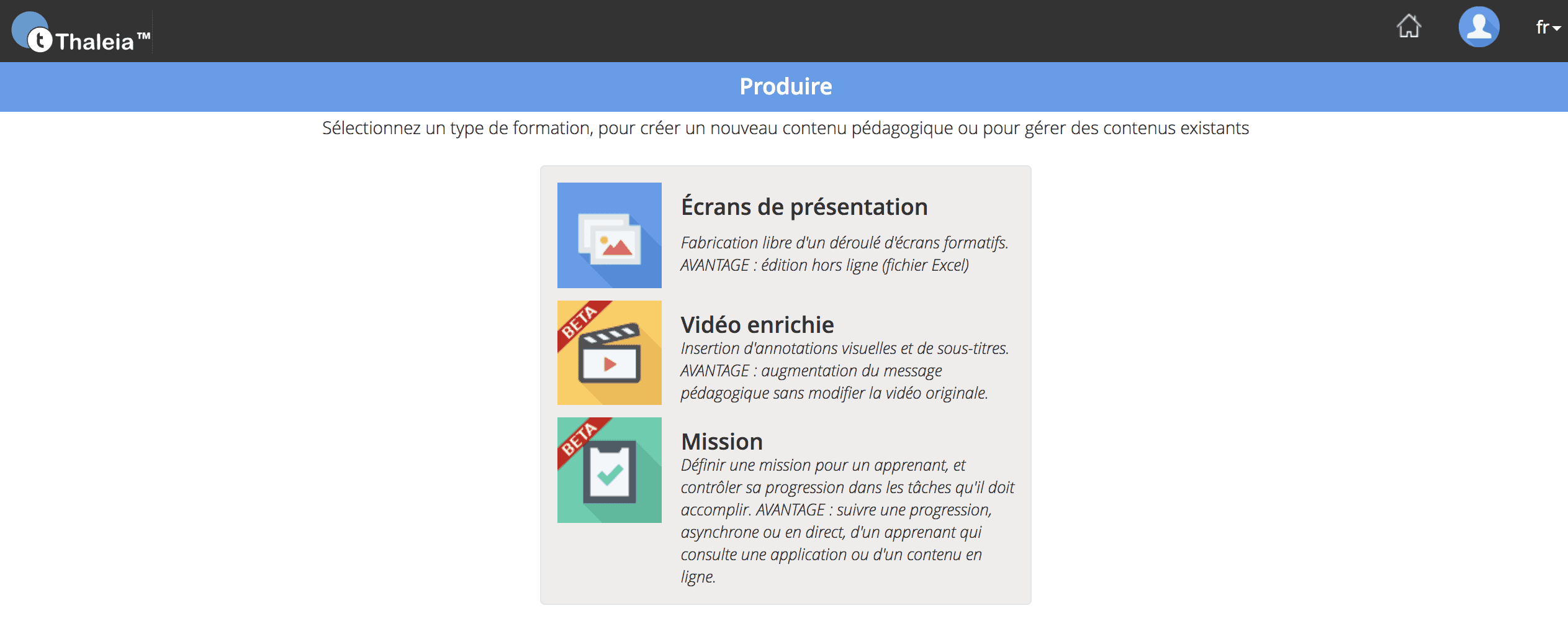 Step 2: Download the Excel file
For this step, sim­ply click on "down­load com­ple­ted archive" to start down­loa­ding the Excel file.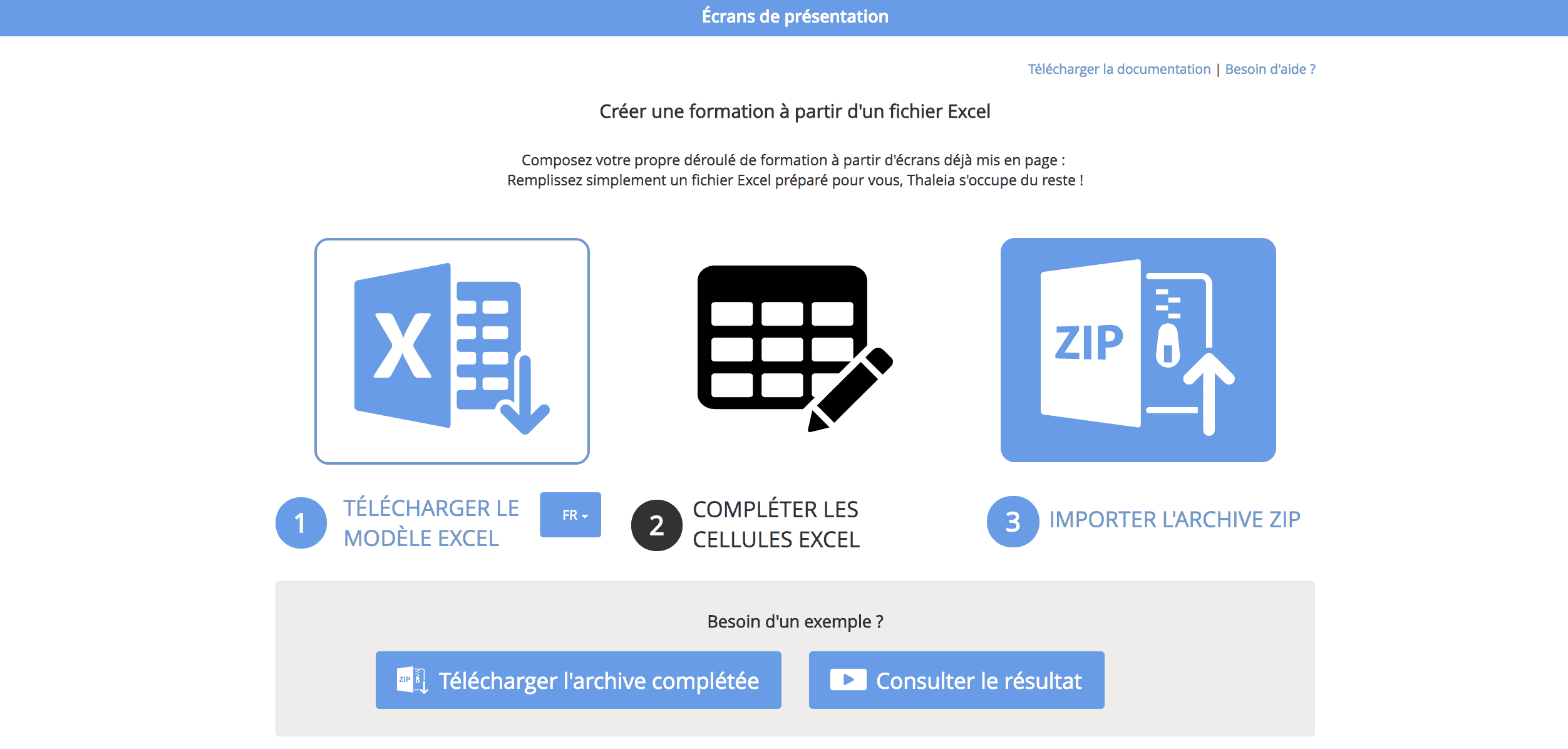 Unzip the file and open the file new_class_virtual.xls.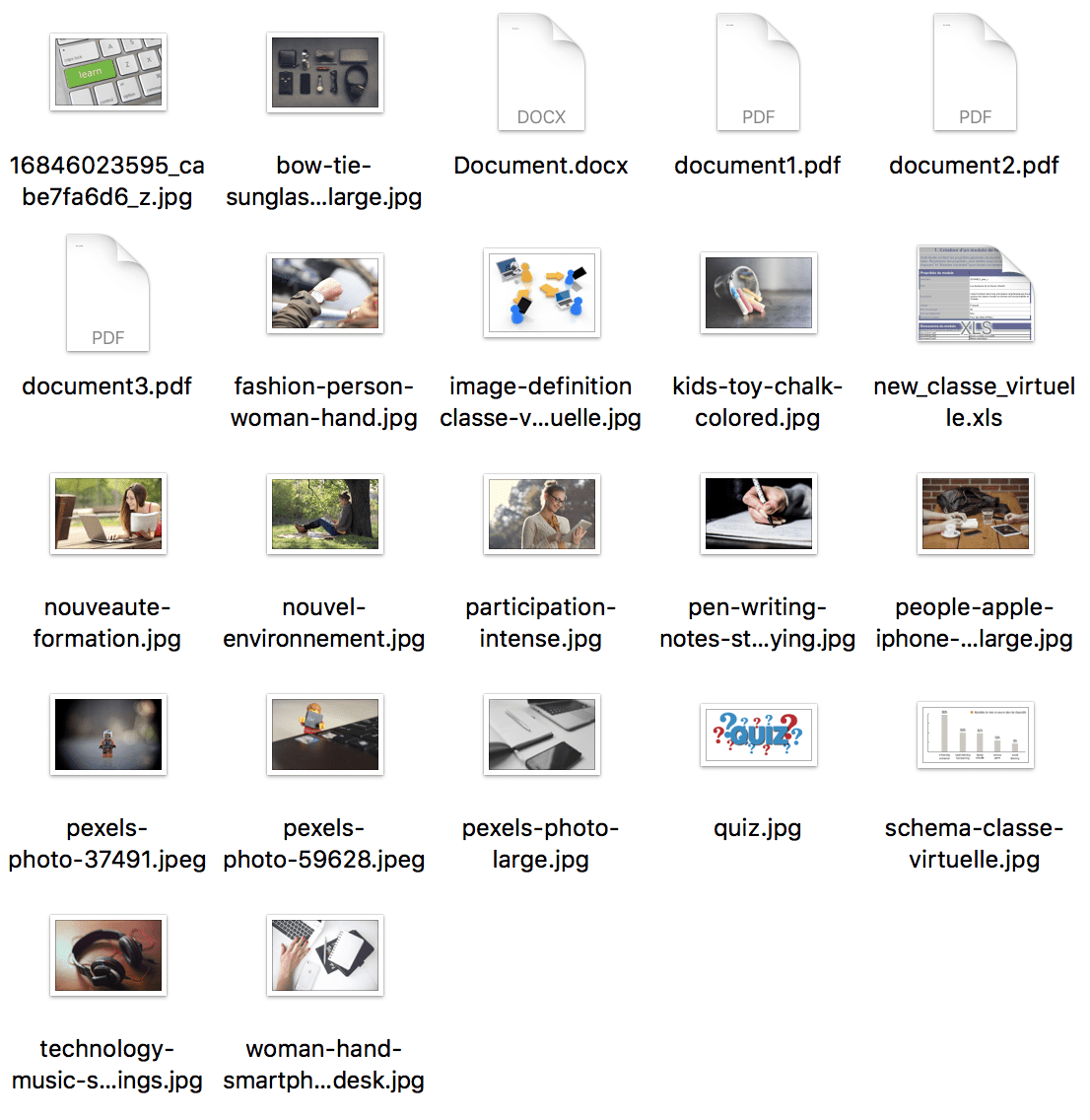 Step 3: Fill in the Excel file
This is the first sheet of the Excel file. It serves as a sum­ma­ry and intro­duc­tion to the module. You only need to modi­fy the text to fit your needs.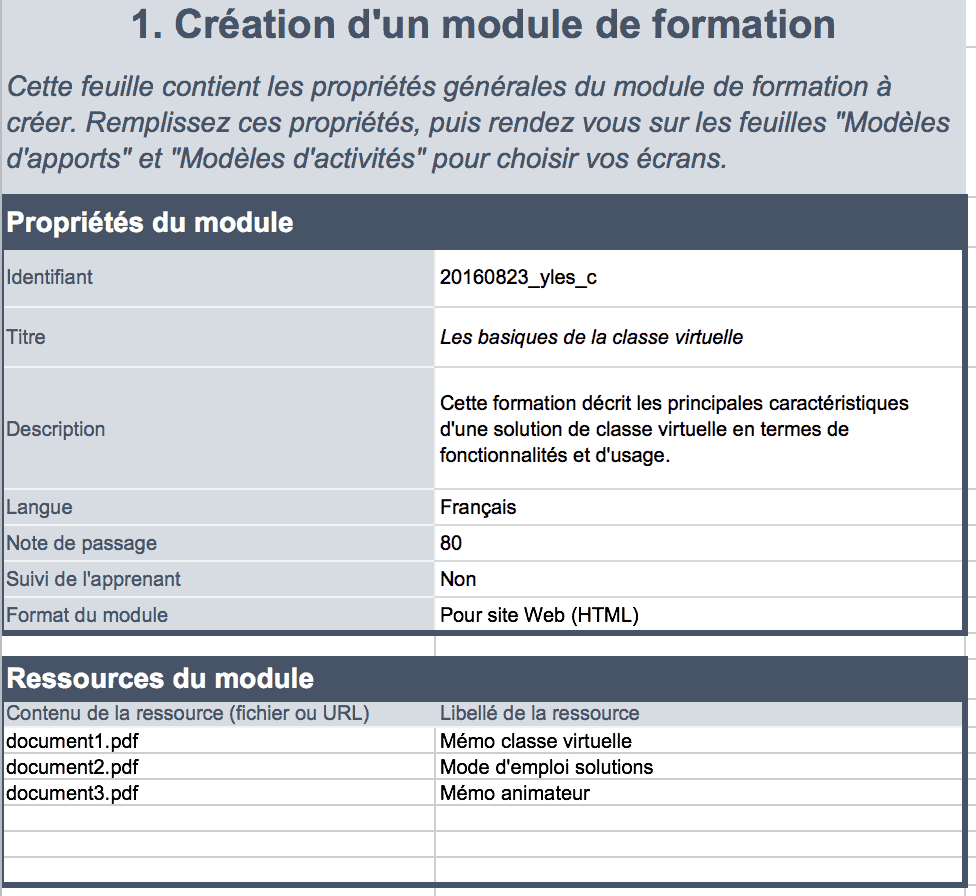 Then go to the "Input tem­plates" and "Acti­vi­ty tem­plates" sheets to choose and modi­fy your screens. These sheets contain the screen tem­plates that you can insert in the module to be crea­ted. To do this: select the cells of a tem­plate, copy and paste them into the "Screens to be impor­ted" sheet. The content (white cells) will then be modi­fied in the pas­ted template.
To finish with the Excel file, once you have fini­shed your e‑learning module, go to the "Screens to import" sheet to make sure you have not for­got­ten any­thing! To check, hover over the dark blue area with your cur­sor to pre­view your page.
Once you have com­ple­ted your docu­ment, sim­ply return to the Tha­leia web inter­face to import your file. Click on part num­ber 3: import ZIP archive.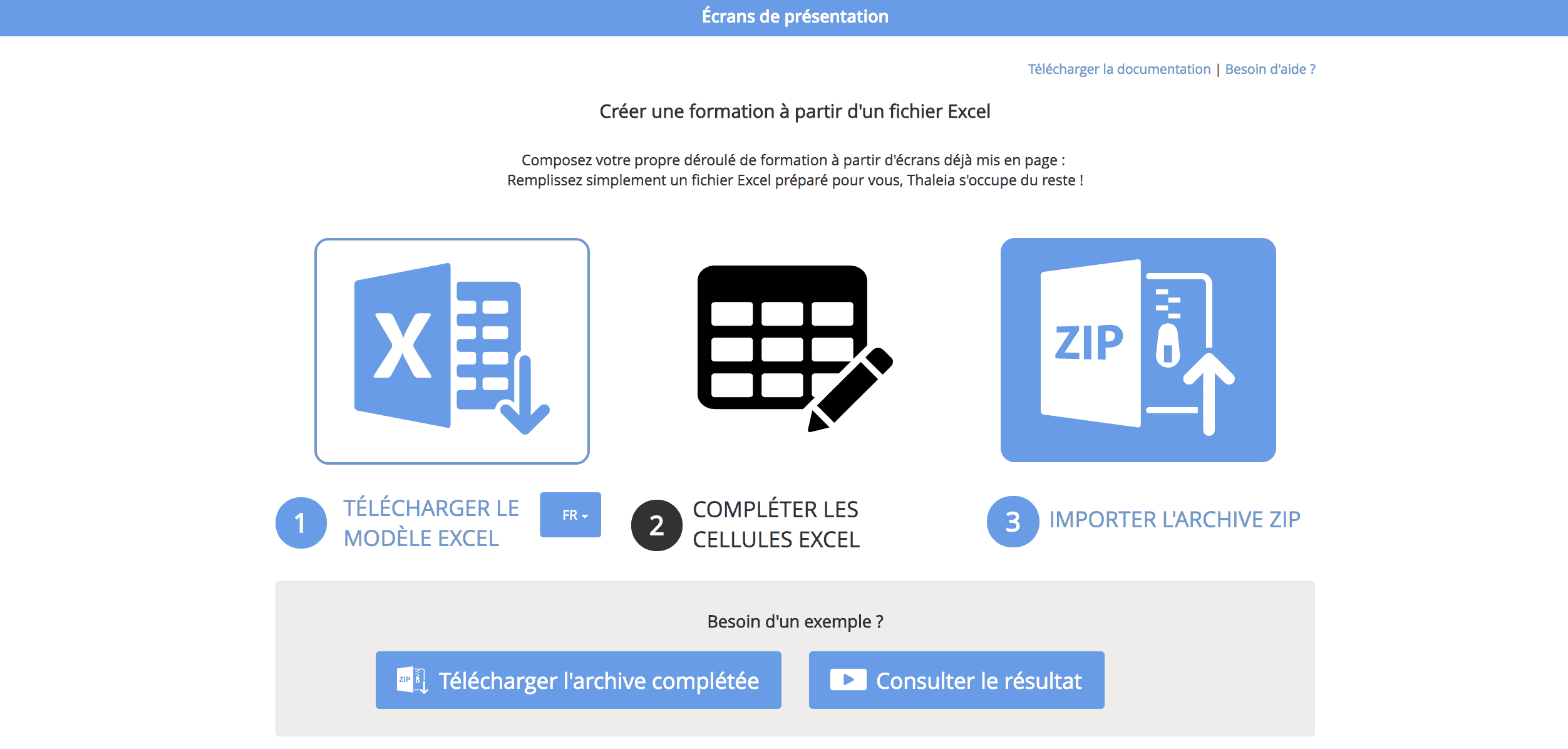 Tha­leia then gene­rates the module in minutes. Feel free to pre­view your trai­ning by cli­cking on the pre­view button.

With Tha­leia, crea­ting an e‑learning module has never been easier! This solu­tion is ideal for com­pa­nies that want to create trai­ning modules qui­ck­ly while control­ling costs.
To see an example, click here.
Have you tried Tha­leia yet? We're wai­ting for your feedback!
Pho­to by Pris­cil­la Du Preez on Uns­plash